GuidedChoice's innovative approach to leveraging technology to provide a financial advisor in your pocket through its 3Nickels app, combined with Financial Fitness Group's Financial Fitness platform, provides a holistic approach to improving a user's overall financial wellness. We recently spoke to GuidedChoice about the rollout of the 3Nickels app to showcase our collaboration.
The Challenge: Why did GuidedChoice select to work with FFG?  What was the challenge you were facing? The story behind the collaboration  

Our expertise at GuidedChoice is to build tools that enable individuals to reach financial freedom. Although advice is a significant component, we realize financial literacy is also a piece. Those who are financially literate are more able to utilize the tools we build to their fullest capacity and understand the trade-offs. The challenge is that according to FINRA, 66% of Americans are financially illiterate. The solution was to develop courses that would help shift that number significantly. Our tactic has always been to use best-in-class components to build innovative, robust solutions. We had built courses around our 3Nickels app but decided we wanted more. That's when we found Financial Fitness Group.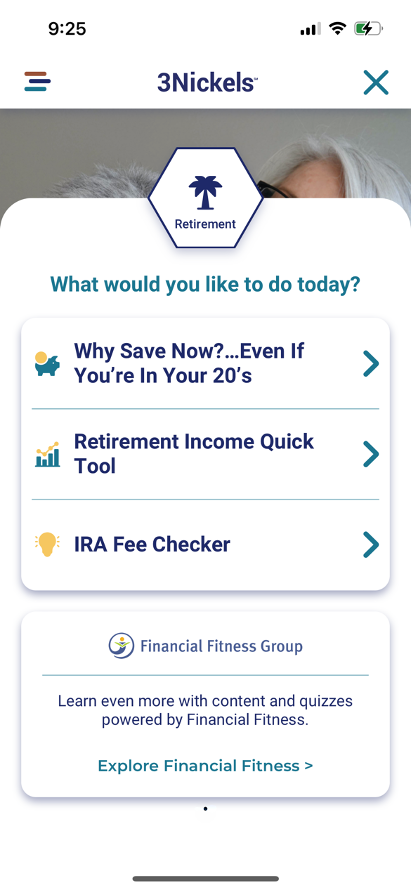 The Solution: How did FFG help bridge the gap for your challenge? What was the solution?
We worked together to determine which modules fit best within our 3Nickelsapp. Technology had evolved enough to enable us to integrate their solutions into our platform rather than attempt to build out the robust education ourselves. This enabled us to stay focused on our core business while offering an extremely robust platform to our customers. Problem solved.  
The Partnership Goals: What were your goals for integrating our content within your application?
Our goals are to:
Improve financial literacy for those using our platform
Ensure individuals know exactly where they stand concerning their goals, and
Understand the trade-offs with respect to their goals.
We measure success through the app itself in multiple ways:
Courses accessed
Quizzes
Pop-up questions
On- and off-target measurements against goals
Iterations of advice
Tracking and measuring the impact: What hard metrics can you gather from your side to support our work together and the goals you all were trying to achieve? Is it a specific type of conversion? Is it a certain number of logins or sign-ups? How are you measuring success?
The number of logins and signups is one way of measuring success, but there is an opportunity to go deeper than that. If you can track the topics and tools most visited based on attributes like age or geographic region, it will help to focus efforts to enhance the product offerings. This could significantly improve the value and benefits of the GuidedChoice offerings. We are also looking at a way to create a financial wellness score based on the status of user goals which can then be correlated to the financial fitness score and the benefits of financial education. The key question is whether better-educated people improve their financial wellness over time. There is not always a quick fix for a previous bad decision, so you will have to track this over time as you guide users through corrective steps.
Financial Fitness Group has worked with thousands of organizations and four million individuals to improve their financial aptitude by up to 70% by leveraging game mechanics and engaging content to simplify the complex. This partnership will help to eliminate mental roadblocks to make learning about finances easy, effective, and fun.