For Over 20 Years

we've helped financial providers, employers, and government agencies measure and improve financial aptitude, behavior & confidence
Demand
Over 20 years of research shows 80% of Americans live paycheck-to-paycheck and lack sufficient savings to pay for emergencies.
Reach
Leveraging digital technology, these programs deliver to a large number of participants at a low marginal cost.
Impact
The correlation between financial literacy and behavior is becoming more prominent in today's digital world. Its effects reach far beyond consumers to financial institutions and the consumers they serve.
Personalization
The flexibility and convenience of online delivery mean more users can participate. It provides privacy and a personal, customizable experience.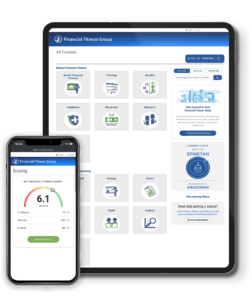 Engaging Financial Wellness Solutions
Financial Fitness Group provides unbiased online, interactive tools that teach participants how to increase their financial knowledge and standings. Our Financial Fitness Platform is a collection of feature sets that can be easily set up and designed to fit your organization's unique needs.
Our Financial Fitness Platform Can Help You
Identify & Serve Every Financial Journey.
Financial Wellness Solutions for Every Industry
Our Financial Wellness Solutions provide unbiased online, interactive tools that teach individuals how to boost their financial knowledge and standings while providing organizations with a 3 to 1 Return on Investment. The use of technology, psychology, competition, and fun has become a proven formula for financial wellness success.
In today's crowded marketplace of digital engagement, those in the financial services industry need to differentiate themselves. Our platform empowers organizations to attract, build, and cultivate deeper relationships with their clients.
Financial wellness can be a significant benefit for both government agencies, the systems they serve, and especially for public sector employees. Financial challenges can affect a worker's health, workplace effectiveness, long-term financial stability and ultimately, your bottom line.
We serve employers of all sizes and across all industries. Utilizing our online financial wellness platform gives you the unique ability to engage, benchmark, educate and drive action from your entire workforce.