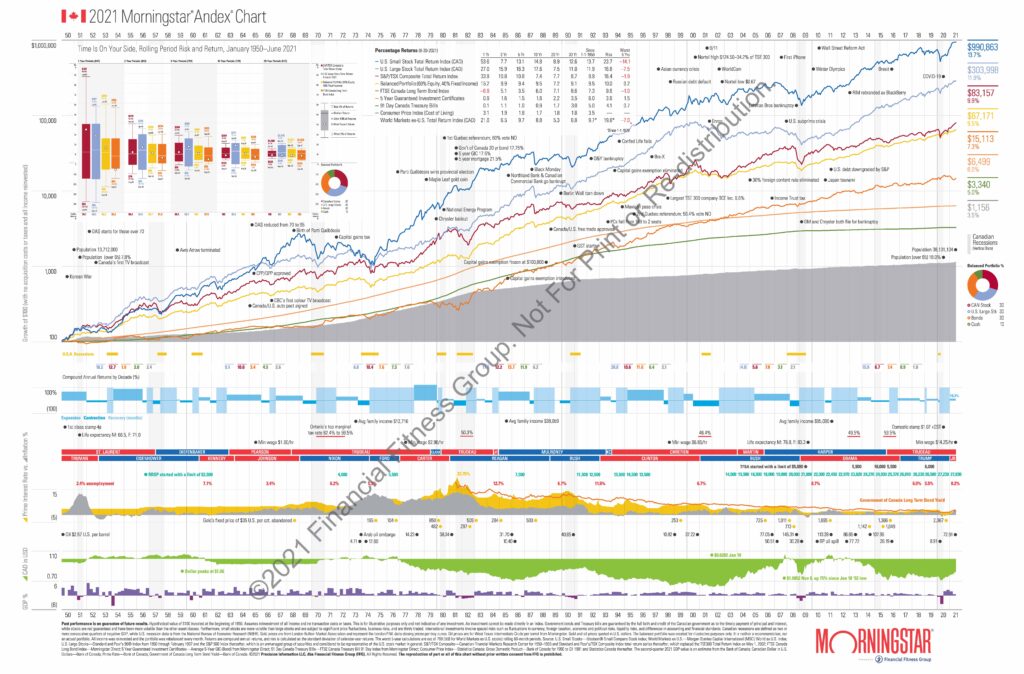 Prepare for the future, by looking at the past
Explaining complex financial concepts to clients and prospects can be a challenge, even for experienced professionals. The Canadian Morningstar Andex® Financial Chart is an excellent tool to help educate your clients on market downturns and recoveries, giving your clients confidence to stay invested in stable or turbulent markets.
Please note, the data represented in this chart is from June 2020 – June 2021.
We offer two different digital licenses for advisors interested in using the Canadian Morningstar Andex Chart.
| Digital License | Print License |
| --- | --- |
| $299USD per Advisor License | $50USD per Advisor License |
| Each digital license provides access to one Advisor to digitally redistribute the chart to up to 100 Clients and to print up to 1 poster for personal use. The purchase of each license includes access to French and English charts. | Each individual Print-Ready PDF license provides access to print ONLY 1 copy of each chart for personal use. You may select to purchase more than one print license to print additional copies. The dimensions of this chart are set for print at 25″x38″. The purchase of each license includes access to French and English charts. |
| | |
Specifications, Purchasing Quantities & Shipping Information
Please use Google Chrome or Safari to make a purchase. Internet Explorer has capability issues.
Purchase 1 License of the digital version of the 2021 Canadian Morningstar Andex chart. Each License provides access to one Advisor to digitally redistribute it up to 100 Clients and print 1 poster for personal use. The license includes access to French and English versions of the chart. This PDF is stamped with your personal information and order number for tracking purposes.
The purchase of one individual Print-Ready PDF Canadian Morningstar Andex license allows customer to print ONLY 1 copy of each chart for personal use at your local printer. You may select to purchase more than one print license to print additional copies. The dimensions of this chart are set for print at 25″x38″. This PDF is stamped with your personal information and order number for tracking purposes.
To learn more about our enterprise level print or digital licensing options please contact sales@financialfitnessgroup.com
With the purchase of this printed chart, you agree to our Terms & Conditions and Privacy Policy