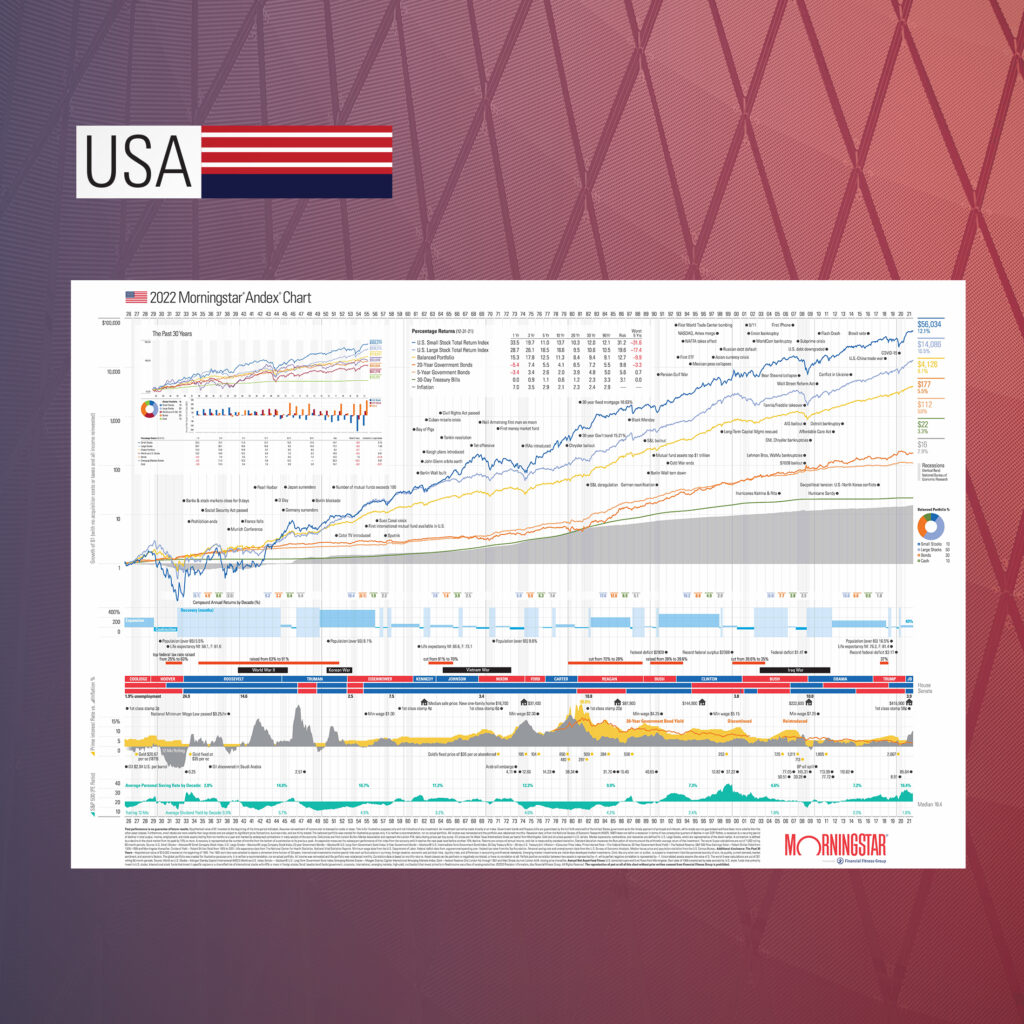 The U.S. Morningstar Andex Chart offers a historical perspective of market downturns and recoveries, giving your clients confidence to stay invested in stable or turbulent markets.
U.S. Data 2021
Explaining complex financial concepts to clients and prospects can be challenging, even for experienced professionals. The right communication tools can go a long way in helping to spark meaningful discussions and client interactions. The Morningstar Andex Chart provides clients with an overview of how markets and the economy have performed over the last 100 years. The overriding theme is that markets rise and fall over time. The market may have ups and downs caused by different factors that affect the returns in the market. Still, those effects will move to the side at some point, and things will return to normal, and there will be an upwards pull in the economy.
Posters are printed at 25″x38″, Full Color on 80# Opus Cover Stock paper. Please note, if shipping outside of the U.S., there may be additional international shipping costs through FedEx.
PLEASE NOTE: NEW 2023 ANDEX CHART WILL BE AVAILABLE FOR PURCHASE IN MARCH. BY BUYING THIS POSTER TODAY, YOU ARE PURCHASING OUR 2022 CHART.
NEED A 2021 CANADIAN ANDEX CHART? PLEASE CLICK HERE TO PURCHASE.
Individual Advisor Digital License
Get the 2022 U.S. Morningstar Andex Chart as a downloadable digital license. This allows you to share the Morningstar Andex Chart with clients via email or teleconference. Each digital license provides access to one Advisor to redistribute the chart to up to 100 Clients.
Specifications, Purchasing Quantities & Shipping Information
Please use Google Chrome or Safari to make a purchase. Internet Explorer has capability issues.
Purchase 1 License of the digital version of the 2021 U.S. Morningstar Andex chart. Each License provides access to one Advisor to digitally redistribute it up to 100 Clients. This license does not allow you to print and re-distribute the chart.
Posters are printed at 25″x38″, Full Color on 80# Opus Cover Stock paper.
You may purchase a minimum of 1 poster and up to 5 per transaction. Max quantity for purchase through this landing page is 5 Morningstar Andex® Posters per transaction.
All sales are final. No returns available once the poster is processed and shipped out.
Posters are sent via FedEx Standard Ground at $24.00 flat fee. Each shipping container holds up to 5 posters.
For additional orders above 5 posters, you will need to start a new order.
To purchase more than 50 posters please contact sales@financialfitnessgroup.com
For the Canadian version of the Andex Chart, please contact sales@financialfitnessgroup.com
With the purchase of this printed chart, you agree to our Terms & Conditions and Privacy Policy