Our All-in-One Branded Platform
The Financial Fitness ACADEMY™ is our solution to generating more educated investors and employees. Users of this powerful e-learning solution consistently demonstrate significant improvement in their financial knowledge, attitudes, and behaviors, leading to more confident and engaged learners.
A proven formula for success
The Financial Fitness Platform empowers organizations to assess, benchmark, and change participant's financial behaviors. Built on proven academic and organizational research, our solution has demonstrated its ability to help participants of all backgrounds improve their financial wellness for over a decade.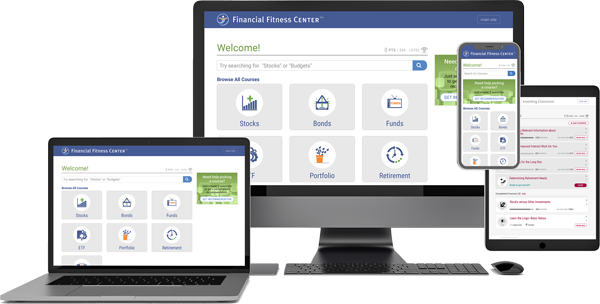 Financial Fitness Platform Features
FINANCIAL CONTENT LIBRARY
More than 15,000 pieces of content covering the basics of financial education and investing. We offer articles, tutorials, multi-media, audio and video courses in both English and Spanish.
FINANCIAL FITNESS SCORE™
Participants gain access to our proprietary online Financial Fitness Checkup to identify how financially fit they are through a Financial Fitness SCORE™.
MOBILE RESPONSIVE DESIGN
Users can access financial education anywhere, anytime and from any device.
PERSONALIZED BRANDING
Customized to your brand for a complete user experience.
MARKETING & ENGAGEMENT TOOLS
Email marketing and promotional tools to maximize user participation.
DEDICATED CUSTOMER SUPPORT
Implementation and ongoing program support.
Calls-To-Action
Allows financial services firms to cross-link from our platform content to other tools, resources or actions.
DATA SECURITY & PRIVACY
Confidential and private, secure sign-in with SSO.
REPORTING & ANALYTICS
Robust analytics and reporting that allows you to track the impact at an individual level and organizational level.
Take the next step. Set up a demo with one of our friendly team members to see our platform in action.