Attract, Build, and Cultivate Deeper Relationships Through Personalized Financial Wellness.
Financial Fitness Group was founded on 20+ years of research on how best to engage consumers to learn about money in a digital world. We believe that an educated investor is a better client. That's why we're the leading FINRA-reviewed financial education content provider that helps thousands of advisors, financial service providers, and FinTech firms attract, build, and cultivate deeper relationships with their clients. Users of our powerful investor education solutions demonstrate significant improvement in their financial knowledge, attitudes, and behaviors, leading to more confident and engaged investors.
Our platform and approach can help organizations generate 5X better engagement, allowing them to attract, build, and cultivate prospects and customers through personalized digital advice.
Gain 5x New Leads and Transactions From Online Financial Education

Financially Educated Customers Invest 40% More 
51% of participants who engage in online education meet with a Financial Advisor
An Educated Investor is a Better Client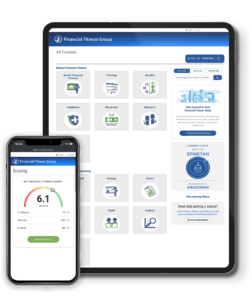 For over 20 years, Financial Fitness Group has been helping consumers learn about money in a digital world while giving financial service providers the tools and content to generate 5X better results with prospects and customers. 
To fulfill the demand for online, personalized financial literacy, the Financial Fitness Group uses its data, content, and technology to educate financial consumers. Our platform enables financial service organizations and advisors to engage with clients through personalized financial wellness content to deliver personalized learning options.
Learn how our products can help you attract, build, and cultivate deeper relationships with your clients.