Assess, Benchmark, & Measure Financial Health at your Credit Union
Financial Fitness Group is driven to empower Credit Unions in fostering financial literacy among their employees and the communities they serve. Key data and metrics show that when Credit Union employees have a basic understanding of financial health and fitness, they can better empower members to navigate their economic challenges.
Through the years, we've built a proven formula for success. By utilizing psychology, technology, and game mechanics we've made financial learning easy, effective, and fun. That's why for more than a decade, Credit Unions across the nation have partnered with us to help them measure and document consumer financial well-being and health. 
Ready to create a financial well-being strategy for your Credit Union?
Discover how we can help you create and implement a successful financial wellness strategy for your employees and your member community.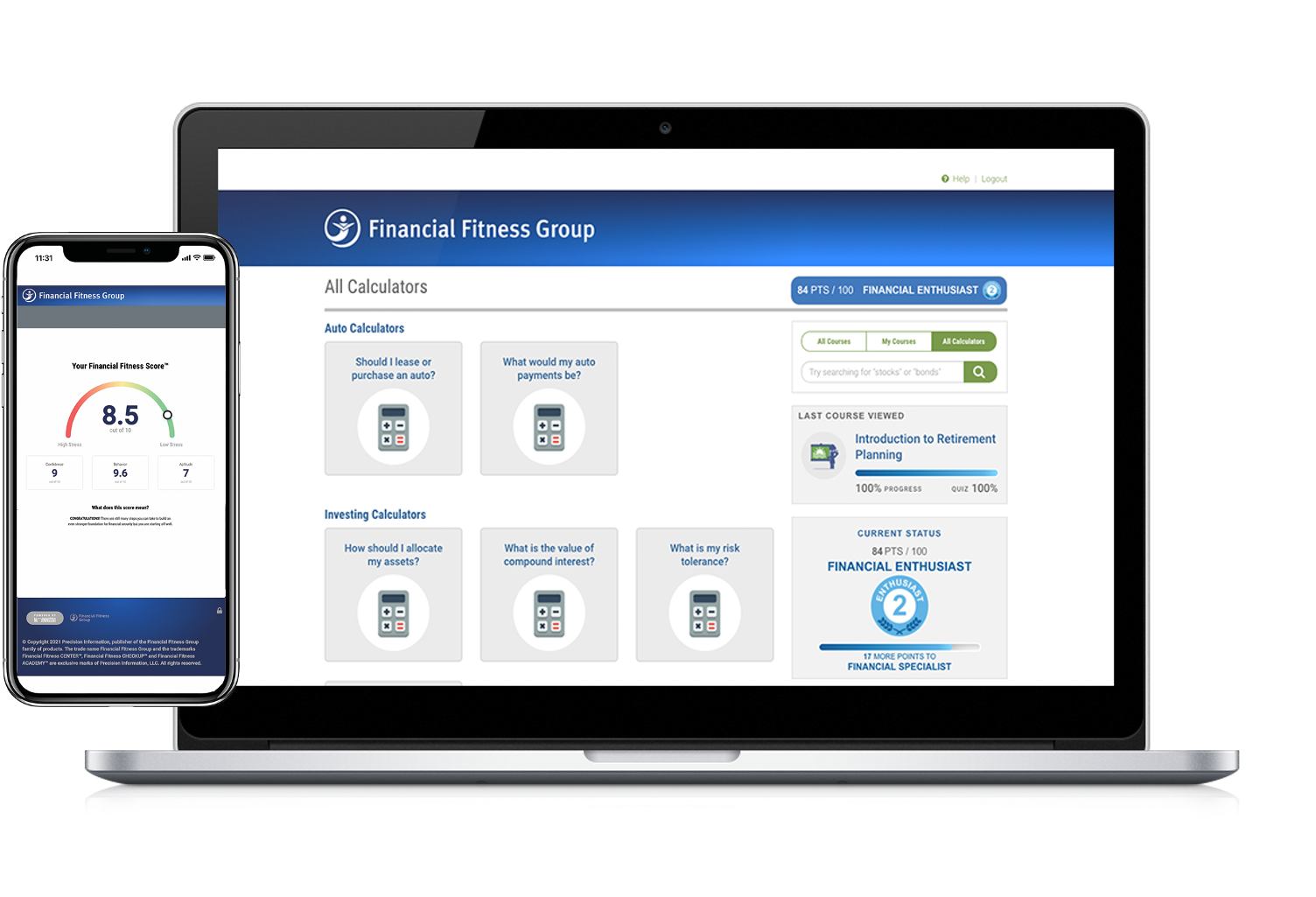 Financial Fitness Platform
Our personalized digital platform is flexible, scalable, and impactful for Credit Union employees and their members.
Measuring and tracking the impact of financial well-being for employees is crucial to the overall strategy for credit union members. Whether you are looking to educate your employees or engage with your members for deeper, more meaningful relationships, we offer a solution that can reach and impact all of your participants.
Our team of experts start with a consultative approach to understand your KPIs and requirements to guide you in selecting the features that make the most sense for your program. Contact us today to learn how we can help.
FINRA Compliant Financial Content
We offer the largest library of FINRA compliant content ranging from beginner to advance through articles and tutorials, infographics, financial charts, video courses, and more.
Interactive Calculators
Over 100 interactive calculators to select from, allowing participants to calculate economic scenarios such as 'how much should I save for retirement?'
Secure & Private with 24/7 Access
Participants can access the platform anywhere, anytime, and from any device. Data is kept private and confidential.
Knowledge Change Quiz Questions
Pre-and post-tests to benchmark and track real knowledge change amongst your users.
Data & Analytics Dashboard
The administrator reporting dashboard tracks user progress and financial health at an individual and organizational level.
Gamification
Levels, badges, points, and certificatess keep users engaged and motivated to learn.
SSO Integration
We offer Sigle Sign-On Integration for a seamless experience.
Branding & White Labeling
Brand your Financial Fitness Platform with your company logo and brand colors to provide for a complete user experience.
Calls-to-Action
Connect and cross-link users from our platform to other products, services, resources, or actions you want them to take.
User Feedback Surveys
Satisfaction and behavior change surveys provide tangible data on program ROI, satisfaction, and participant behavior change impact.
Financial Fitness SCORE™
Assessing and Benchmarking Financial Health & Well-being for Credit Union Employees and Members
Our proprietary Financial Fitness SCORE™ is the only research and academic-based assessment in the financial wellness market and can be added to your Financial Fitness Platform configuration. Users take the initial Financial Fitness Checkup to generate a SCORE™ similar to that of a credit score, but with more robust data. The Financial Fitness SCORE™ is formulated by collecting millions of data points about the three key components of financial health, or what we call the "A,B,C's" of financial well-being:
Aptitude - What we know
Behavior - How we behave 
Confidence - How do we feel 
It leverages questions from the Financial Well-Being Scale and retains a license to manage its central databank, giving Credit Unions access to valuable data on the financial health of their populations. Our Financial Fitness Checkup assessment and SCORE™ can be added to your Financial Fitness Platform configuration. Schedule a demo to learn more and see it in action.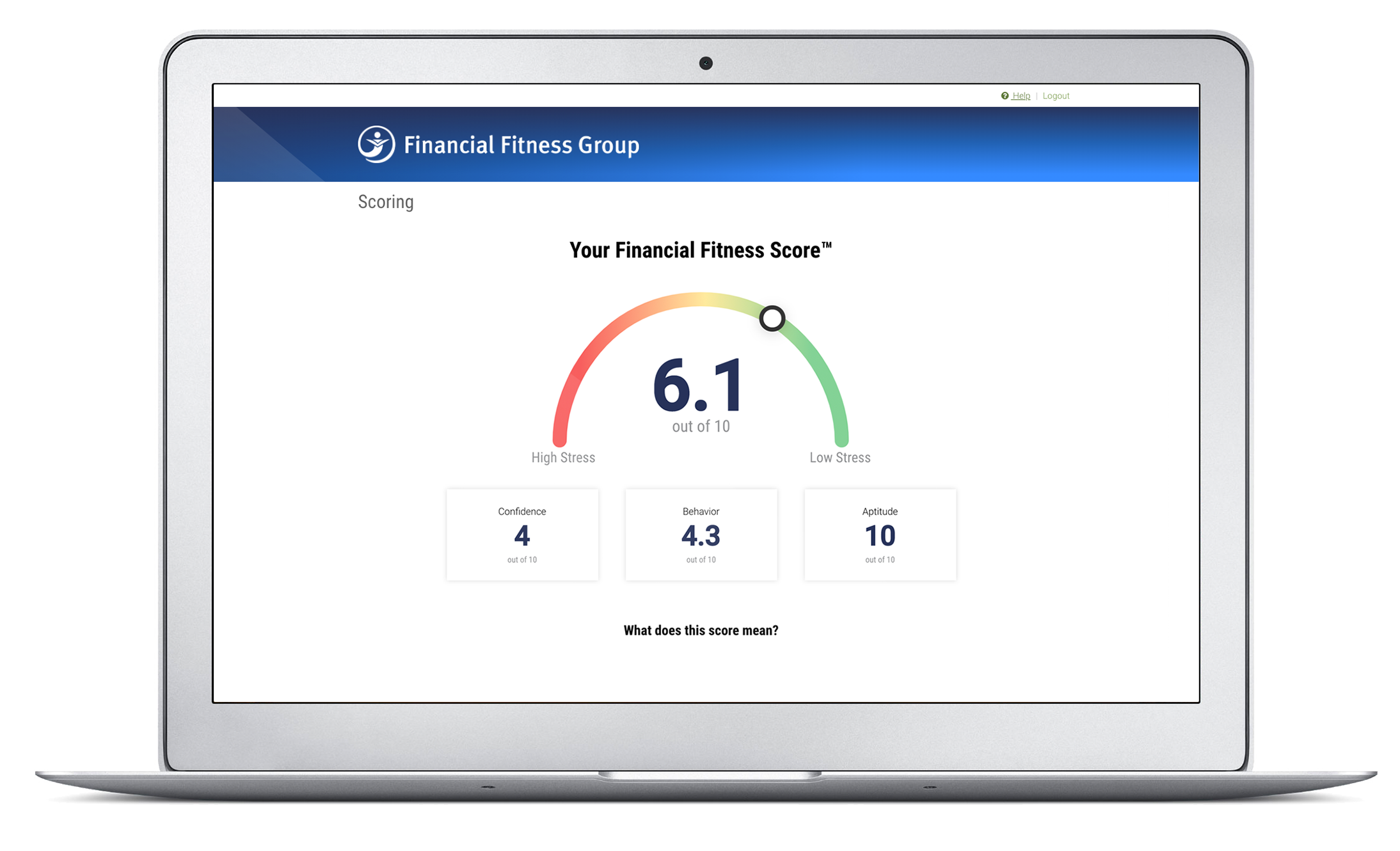 Contact us to learn how we can help you assess, benchmark, and change the financial health of your Credit Union.
Credit Unions utilize our financial education platform to help employees increase their financial knowledge to better serve their members and empower their communities at large.
Case Study: Real Progress and Pathways To Prosperity
This case study provides an overview of how a group of Credit Unions leveraged best practices in online learning, behavioral economics, and the spirit of competition to reach their goal of empowering employees to learn the language of money. The goal was to examine the effect of workplace-based financial education on retirement savings by conducting a randomized field study of employees at 45 credit unions, with those in the intervention group given access to a 10-unit online financial education course.