What is the Financial Fitness SCORE™?
Our proprietary Financial Fitness Checkup and SCORE™ is the only research and academic-based assessment in the financial wellness market. It provides organizations with over 20 million data points to benchmark participants' aptitude, behavior, and confidence regarding personal finances.
How It's Measured
SCORE™ is formulated by collecting millions of data points about the three key components of financial health, or the "A,B,C's" of financial well-being: Aptitude, Behavior, and Confidence.
Aptitude
Each user completes an average of 10 questions on financial aptitude pulling from a databank of more than 100 "standardized" quiz questions on personal finance, saving, investing and retirement. This is continuously updated to ensure questions reflect the most recent tax laws, rules, regulations and relevant topics of interest.
Behavior
Behavior questions are set to be a simple, straightforward measure of an individual's or group's behavior. The questions are validated through a testing process, including display and wording, to ensure they serve as an accurate measure of people's behavior across all demographics.
Confidence
The confidence questions are formulated by a host of financial academics, experts and researchers that use an 8-question survey called the Financial Well-Being Scale. This scale serves as a valid instrument to measure how people "feel" about money.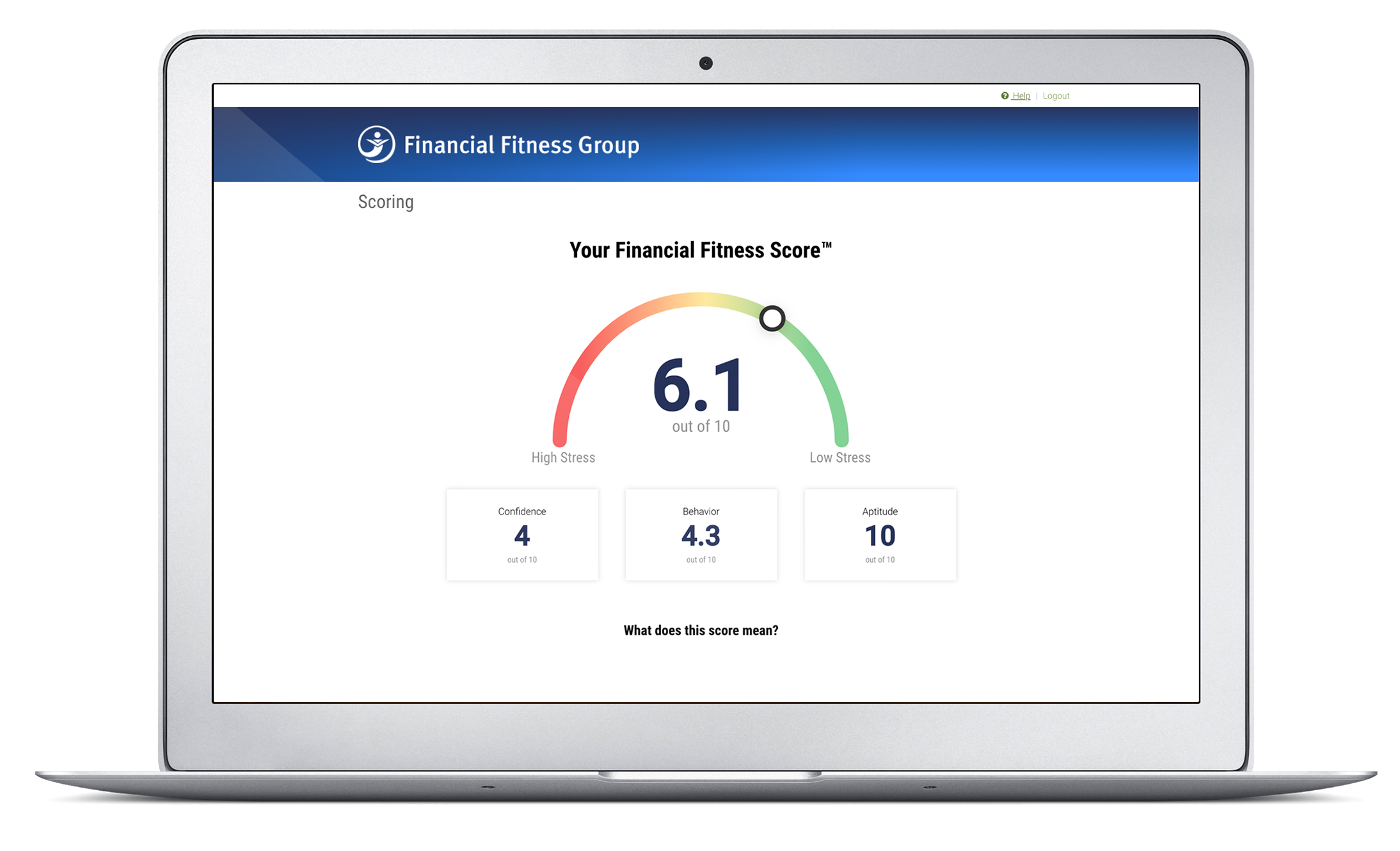 SCORE™ Feature Set
Anytime online access via smartphone, tablet, or computer
Turnkey implementation to drive utilization
Real-time dashboard reports
Award-winning support team
Private, confidential, and secure
Track and measure changes over time
Co-branding and custom welcome screen
Add or remove survey questions
Customizable action items based on user input
Financial Fitness Health Report
Based on the A, B, and C's, we provide organizations with an in-depth micro view of each participant's financial health and a macro report on the organization's overall financial wellness. Administrators have the unique ability to assess the financial stress and knowledge of participants before starting their path to financial literacy. Detailed results summarizing the knowledge, attitudes, and behaviors on an individual level and an organizational level are delivered through a Financial Fitness Report:
Determine the economic impact of financial stress on your company's bottom line.

Evaluate the effectiveness of your current financial wellness efforts.

Measure participant Financial Fitness levels.

Reduce financial stress and improve overall wellness, engagement, and productivity.
More Financial Fitness Solutions
FINANCIAL FITNESS PLATFORM
Our Financial Fitness Platform tracks individual progress, suggests relevant coursework, and keeps learners motivated - providing an in-depth, personalized learning experience. The Financial Fitness Platform is equivalent to a personal trainer for your finances.
FINANCIAL FITNESS CONTENT
We offer the largest FINRA compliant content library in the market. With more than 15,000 financial wellness articles, quizzes and video tutorials, our team will help you customize a financial education library that is unique to your organization's needs.
FINANCIAL WELLNESS RESOURCES
Read our case studies and white papers to learn more about how we impact Financial Wellness at different organizations.