Our All-in-One Branded Platform
The Financial Fitness Platform is our solution to generating more educated investors and employees. Users of this powerful e-learning solution consistently demonstrate significant improvement in their financial knowledge, attitudes, and behaviors, leading to more confident and engaged learners.
A proven formula for success
The Financial Fitness Platform empowers organizations to assess, benchmark, and change participant's financial behaviors. Built on proven academic and organizational research, our solution has demonstrated its ability to help participants of all backgrounds improve their financial wellness for over a decade.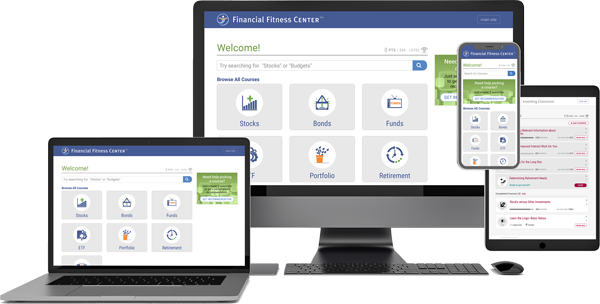 Financial Fitness Platform Features
We understand every financial wellness experience isn't the same. Whether you are looking to educate your employees for retention and benefits utilization or engage with your investors for deeper, more meaningful relationships. Being able to offer a solution that reaches and impacts your unique participants is most important. Our sales team will work with you to select the best features that make the most sense for your program.
First, Start With the Basics
Below is a list of items that are included with every Financial Fitness Platform experience. You may select to implement all of them or a few of them, depending on your organization's need.
FINRA FINANCIAL CONTENT
We offer the largest library of FINRA compliant content ranging from beginner to advance through articles and tutorials, infographics, financial charts, video courses, and more.
REPORTING & DATA ANALYTICS DASHBOARD
The administrator reporting dashboard tracks user progress and financial health at an individual and organizational level.
INTERACTIVE CALCULATORS
Over 100 interactive calculators to select from, allowing participants to calculate economic scenarios such as 'how much should I save for retirement?'
BRANDING AND WHITE LABELNG
Brand your Financial Fitness Platform with your company logo and colors to provide for a complete user experience.
GAMIFICATION
Levels, badges, points, and certificatess keep users engaged and motivated to learn.
CALLS-TO-ACTION
Connect and cross-link users from our platform content to other tools, resources, or actions you want them to take.
USER SURVEYS
Satisfaction and behavior change surveys provide tangible data on program ROI, satisfaction, and participant behavior change impact.
DATA SECURITY & PRIVACY
Our platform and software are confidential and private. Your organization can feel confident we will protect your user's personal information.
KNOWLEDGE CHANGE QUIZ QUESTIONS
Participants take pre-and post-tests before and after each course completion to benchmark their aptitude changes.
And then Add-On
We offer additional functionality that you may select to add to your Financial Fitness Platform experience depending on your organization's needs.
FINANCIAL FITNESS CHECKUP & SCORE™
Our proprietary Financial Fitness Checkup and Score is the only research and academic-based assessment in the financial wellness market. It provides organizations the ability to benchmark participants' aptitude, behavior, and confidence, regarding personal finances.
SSO INTEGRATION & APIs
We provide seamless integration through Single Sign-On and API options.
EMAIL MARKETING AND ENGAGEMENT
We offer themed email content that can be branded with your logo and primary colors to match your platform experience.
Take the next step. Set up a demo with one of our friendly team members to see our platform in action.