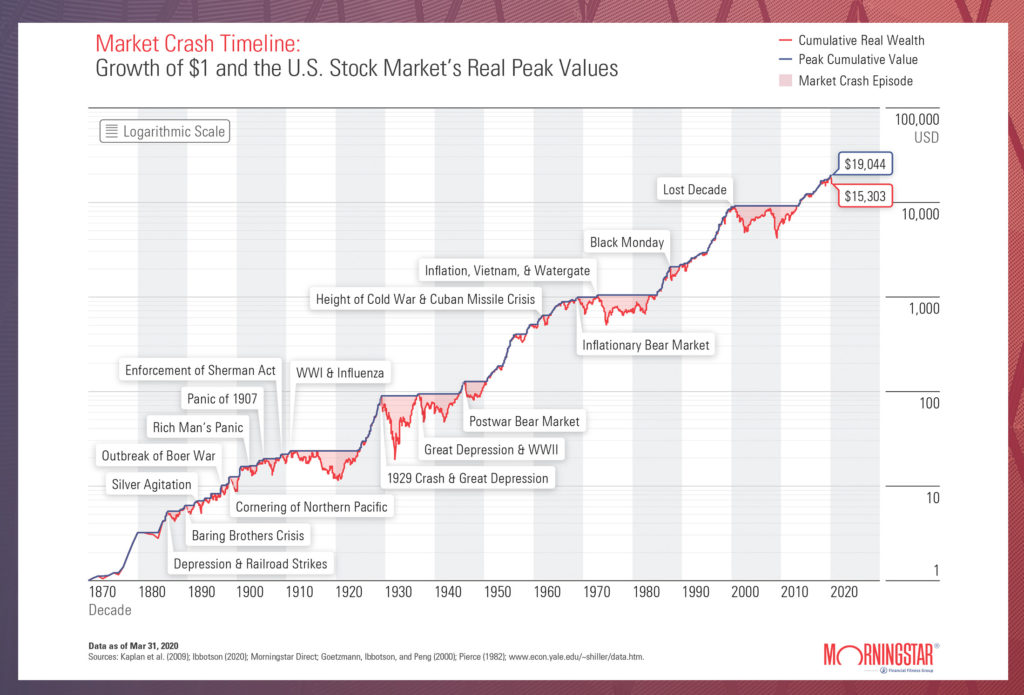 Advisors can use this chart to show clients how market volatility has occurred numerous times throughout the 19th, 20th, and 21st centuries (even before the coronavirus crash), and the importance of staying invested through it all.
Fall Savings! Use Promo Code FALL20 at checkout to save 20% off your order. Hurry, limited time only. Promotion expires 12/31/2020.
Purchase 1 License of the digital version of the Growth of A Dollar In Volatile Markets chart. Each License provides access to one Advisor to digitally redistribute it up to 100 Clients.
If you have trouble viewing the page, please use Google Chrome, Safari or Firefox.
This chart is a premium image in our Financial Communications library. For additional licensing options and to purchase printing rights or larger quantities, please contact sales@financialfitnessgroup.com
Specifications & Purchasing Quantities
If you have trouble viewing the page, please use Google Chrome, Safari or Firefox.
This is a single-use digital file that will be delivered to the email address provided during purchase.
Purchase 1 License of the digital version of the Growth of a Dollar Chart chart. Each License provides access to one Advisor to digitally redistribute it up to 50 Clients.
The Growth of a Dollar Chart is a premium image available through our Financial Communications Library.
For larger quantities and additional licensing options please contact sales@financialfitnessgroup.com
With the purchase of this digital chart, you agree to our Terms & Conditions and Privacy Policy