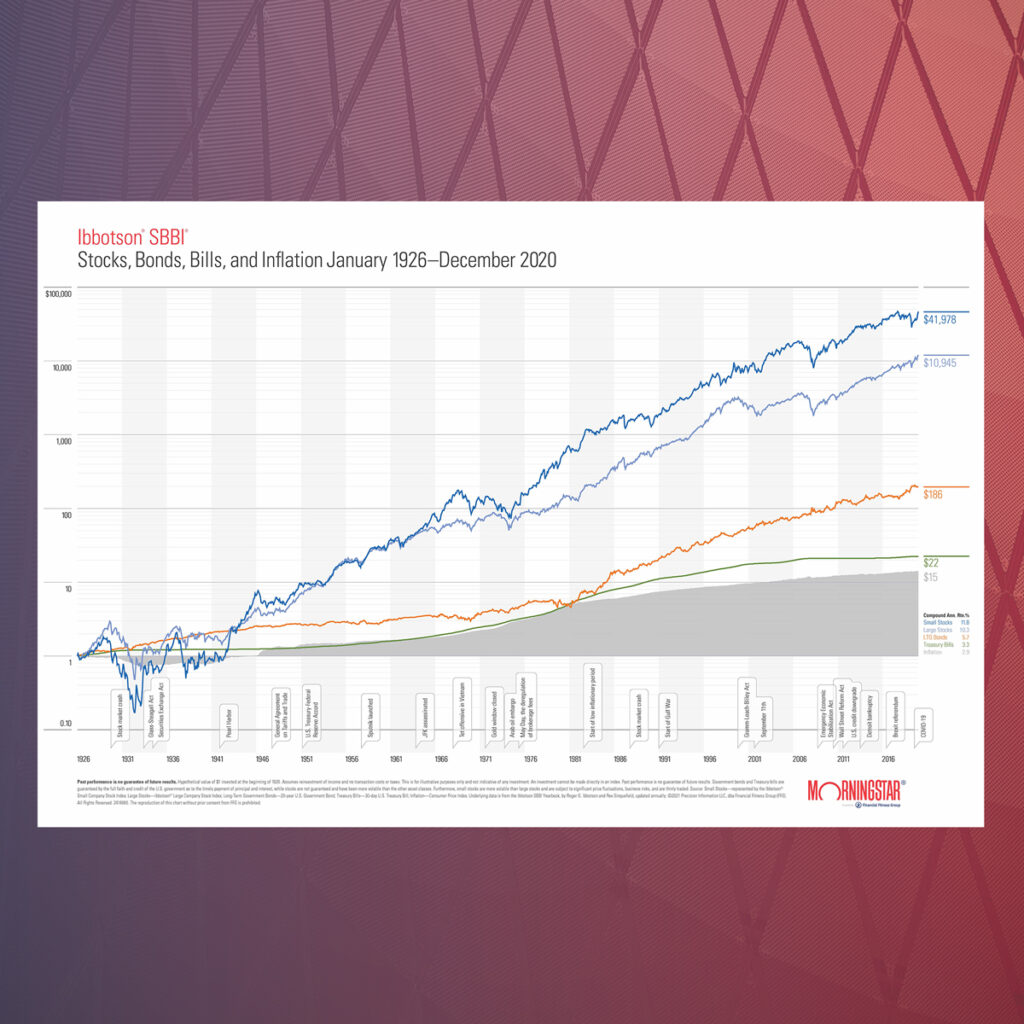 Get Digital License Access to the Ibbotson® SBBI
The Ibbotson SBBI reflects a 95-year examination of past capital market returns and provides historical insight into the performance characteristics of various asset classes. This graph illustrates the hypothetical growth of inflation and a $1 investment in four traditional asset classes over the time period January 1, 1926, through December 31, 2020.
The SBBI Key highlights include:
History of major asset classes since 1926.
Key historic events provide context for asset class movement Also known as "Growth of $1".
Demonstrates the importance of staying invested.
When purchasing an Individual Advisor license, you will receive a digital copy of the SBBI chart.
Want to buy a PDF Print-Ready file to print on your own? Click here to read the details and buy now.
The purchase of 1 Advisor License of the digital version of the Ibbotson SBBI chart provides access to 1 Advisor to digitally redistribute the chart with up to 100 Clients. You may only share this chart via email campaigns or on teleconference calls. This chart cannot be shared via social media or through your website. To inquire about a license for this, please contact sales@financialfitnessgroup.com.
Specifications & Purchasing Information
This is a single-use digital file that will be delivered to the email address provided during purchase.
Purchase 1 License of the digital version of the Ibbotson SBBI chart. Each License provides access to one Advisor to digitally redistribute it up to 100 Clients.
The SBBI (Stocks, Bonds, Bills, and Inflation) is a premium image available through our Financial Communications Library.
This file is also offered in poster size and as a handout with market commentary. To inquire about additional licensing options please contact sales@financialfitnessgroup.com.
With the purchase of this digital file, you agree to our Terms & Conditions and Privacy Policy